HALF-SUPERSTAR
Half-Superstar hanging lamp is constructed of Bubbles® system developed by PUFF-BUFF. It is made of air-filled parts in transparent electronically welded PVC with LED light-points. The air is the main material, which the chandelier is built of. That's why despite its size the lamp is very lightweight.
Elastic PVC elements filled with air and 55 LED light-points. Glossy finishing. Construction made of polished stainless steel. Fitted with stainless steel suspension cords (regulated length) and transparent electrical cable. The canopy in chromed and brushed steel hides the transformer. Delivered inflated.
Two possible options of hanging of the lamp:
next to a ceiling or suspended on slings.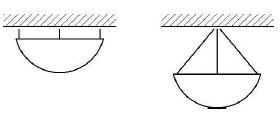 TECH DRAWING